A sunny afternoon at the Cuddesdon Church Fete.
Jenny Lind wows the crowd!
Banbury Bill in a sunny setting.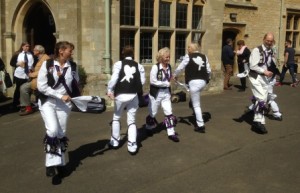 Our fine band of minstrels impresses a superhero – note not the real one – pants on wrong side of trousers!  A delightful setting – donating to our charity and offering a free drink and burger!
Mind you he couldn't manage Shepherd's Hey – probably too much on his mind.