In this first edition of 2016:
---
The January man is here the start of each and every year … but in 2016, he might find his woollen coat and boots of leather don't serve him half as well as a macintosh and pair of galoshes.
Since the last Buzzard, the Havoc's have been swept up in a whirlwind of publicity (well, maybe more of a brisk breeze), what with popping up in the papers and on the radio.
Speaking of the publicity, we've also had our first boxing day dance out at our new regular watering hole, the Seacourt Bridge: the rather mild weather meant we worked up a healthy appetite for some good pub grub, followed up by a very well-attended session of tunes and songs. We'll be back there this week (on the 7th) for our Thursday session. Our first dance-out will be at Hogacre's third annual wassail the following Saturday (the 9th); who knows – maybe some of what they harvested back in October might be ready for sampling!
---
Before they were morris contents
Name: Isobel Perry
Current status: dancer and singer with Cry Havoc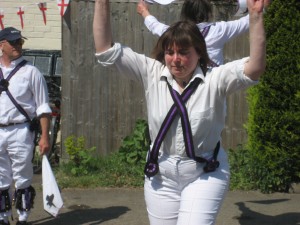 At an early age, Isobel was sure she was destined for special things. There was intelligent life beyond this world, she knew it, and she was determined to make contact with it. She'd heard the phrase 'rabbit ear antennae' and figured that a combination of the bunny ears, a wand, and some balloons for extra elevation – to bring her closer to the alien life forms – would mean an end to earthly drudgery. Sadly, the UFO hovering over the rooftops in the distance completely failed to notice her and she was doomed to live out a mundane, suburban childhood.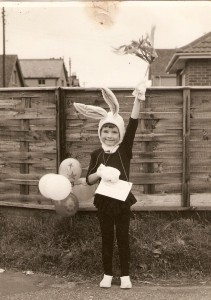 On maturing to womanhood, her restless spirit saw her flit from one job and country to another. For a short time she gave yacht rides off the coast of Florida.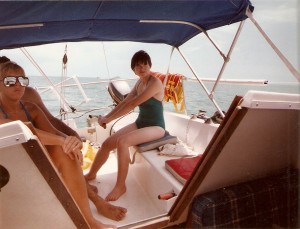 A venture building outdoor swimming pools in England proved to be less appealing and lucrative than she had thought. (That's Isobel in the centre of the picture.)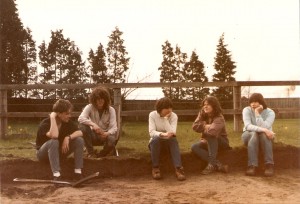 … And there just wasn't enough money in being a landscape painter, even in Italy.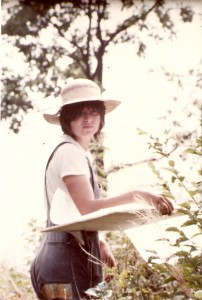 But then one day, as if in answer to her prayers, she met a tall man who arrived in a blue box. He said his name was 'The Doctor' and he could show her things in time and space that she hadn't even dreamed of. A picture taken on a trip back to Elizabethan times shows Isobel proudly displaying a Dalek trophy – a 'plunger' gained during a momentous victory against the Doctor's sworn enemy.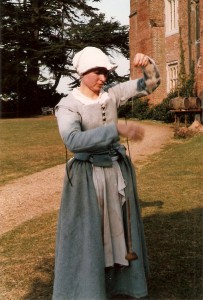 But exploring the universe wasn't without its drawbacks. As we can see in the next picture, blending in with the natives on the planet Hernia in the year 4056 took some considerable effort!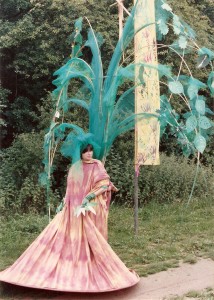 After a few years of excitement and adventure with the dashing Doctor Isobel had had enough and decided it was time to return home to England and rather more domestic delights. Such is the story of many of the Doctor's companions, and in many ways Isobel was lucky as she was not stranded in an alternate universe, or dead, or undead, or with her memory wiped, as has happened to some of the Doctor's friends.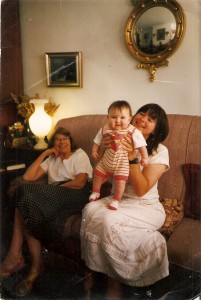 But that restless spirit would still come to the surface from time to time. Morris dancing was one way she could find an outlet for the pent-up energy; and the other… was singing.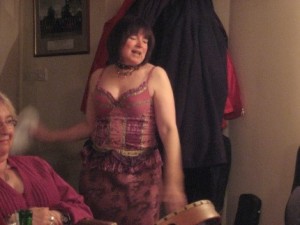 ---
For those taking an extended Christmas break: