Morris Dancing is, we have to admit, an eccentric way to have fun. But there's more to Cry Havoc than just fun. From the outset, we've collected each year for a local charity. Our charity for 2015 was the Oxfordshire Multiple Sclerosis Therapy Centre. We're proud to announce that this year we've raised £1000 for a cause that has touched the lives of several Havocs.
This coming Thursday, November 17th, we are presenting the cheque to the Centre. This afternoon a few Havocs gathered with the cheque for the benefit of the local press.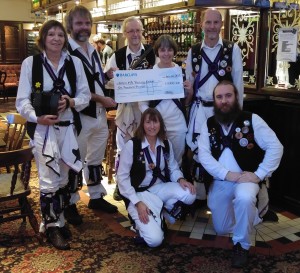 Look out for our announcement of our charity for 2016 in the New Year.