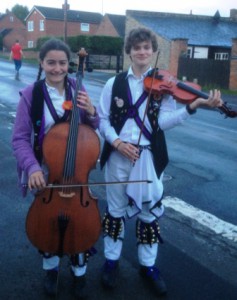 Monday night!
What with the baggies stuffing the blues!
The rain, wind and a glorious rainbow!
The havocs joined Mr Hemmings at a new venue and explored a new formation (4 member Morris) and a new approach to Morris music – 'She's playing a cello, that's a first'! said one Mr Hemmings – little did he know it was a first in many ways or us all!  Brilliant effort – mandolin, cello and fiddle all acquitting themselves with aplomb – and a Litchfield Hey to die for!