In this just-in-time-for-May-Morning edition:
---
This edition begins with some very sad news: Jane Merrow-Smith, one of Cry Havoc's founding members, passed away suddenly in March. A funeral service was held on the 2nd of April, at the new South Oxford Crematorium. It was a more colourful event than you might imagine, as the family requested that mourners wear a bright item, as a tribute to Jane's bright personality. The tribute was thoughtful, with a number of recollections that brought smiles and a little laughter, as well as tears. A release of balloons at the end of the ceremony affirmed the sense that this was not only a mourning of Jane's passing, but very much a celebration of her life.
Many past and present members of Cry Havoc attended the service, and there were a number of messages from those that have moved away from the area. Jane's family had asked us to dance at the wake, and we felt very privileged to do so. We remember Jane here with some photographs from the archive.
Farewell, Jane. You are and will continue to be missed.
---
The summer ahead
Our dancing season began with dance outs at various spots during Folk Weekend Oxford, followed shortly by our regular St. George's day dance out at the Eight Bells, Eaton. On May Day, we have a bright and early return to the Oxford Botanic Gardens, where we will dance at dawn, before the Magdalen Choir sings from their tower at 6am. We will then dance in Oxford throughout the morning and, no doubt, some of our number will find their way to the session at the Rose and Crown on North Parade.
Next week sees the start of our regular dance outs, and our bagman has put together an excellent programme for the summer! Details can be found on our calendar. In addition to these regular events, we also look forward to revisiting the Wye Valley and the North East, to join Foxwhelp and Kern for their weekends of dance. There is even talk of venturing abroad towards the end of the summer — more details to follow as plans become firmer.
---
Name: Nigel Northcott
Occupation: I haven't had a proper job for the last 20 years and have never had to work – always managed to do things I enjoyed for payment, or sometimes not! I have four current bits of work – all are based on developing the potential of individuals!
Special morris skills: I have no special skills and only a few basic skills – I have lots of shortcomings – mainly related to my memory, age and infirmity!
How long have you been a morris person? A morris person! I'm more like Groucho Marx – I wouldn't join any club that would have me as a member!
How did you become one? It's more of a becoming than become!
Interests outside morris: Family, racket ball, mountain bike riding, travel, geocaching, gardening, rock/blues music, enquiry
Do you consider yourself a 'folkie'? No – see point above!
Do friends think you are strange? I hope so!
Has morris changed your life? Yes – I am now a teetotaller that hangs around in pubs!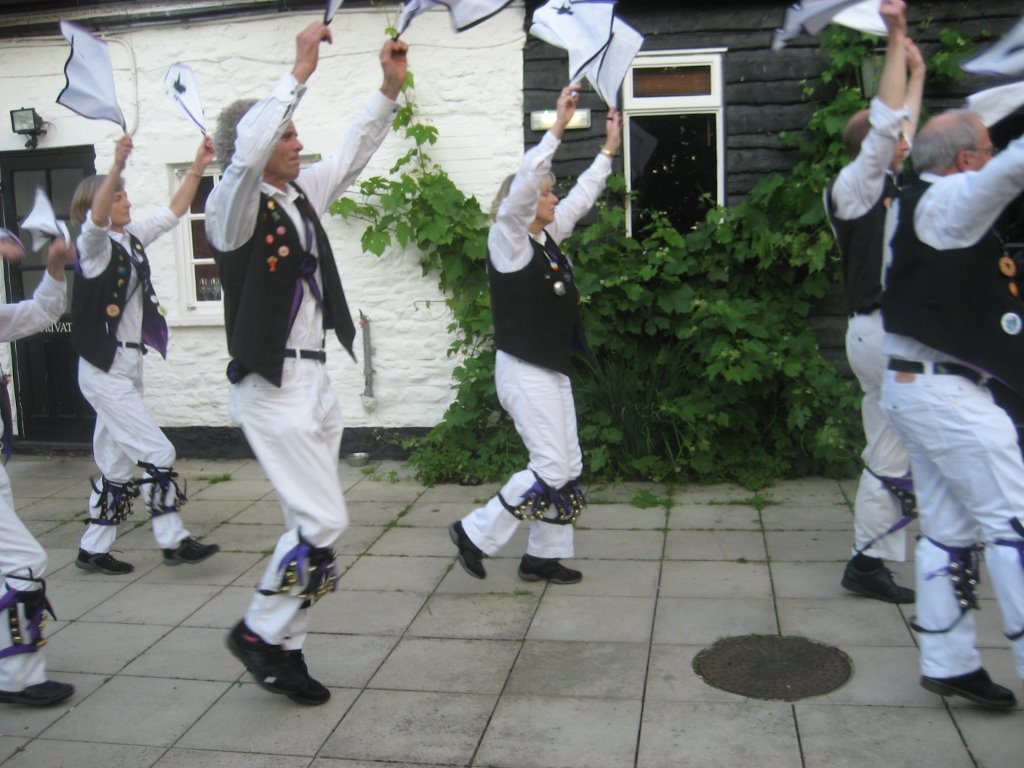 Morris turn-offs: Belly dancers 'muscling/wobbling in' on morris!
Best morris moment(s) so far: Help and encouragement from side members.
Most embarrassing morris moment so far: Too many to mention! – Mind you, no Knicker Police shortcomings – yet!
Favourite dance: Black Joke – it's one I don't do – so can watch and not worry about being expected to take part!
Least favourite ditto: Wobbly leg dances!
Best place to do morris in: In my dreams or a ball pit!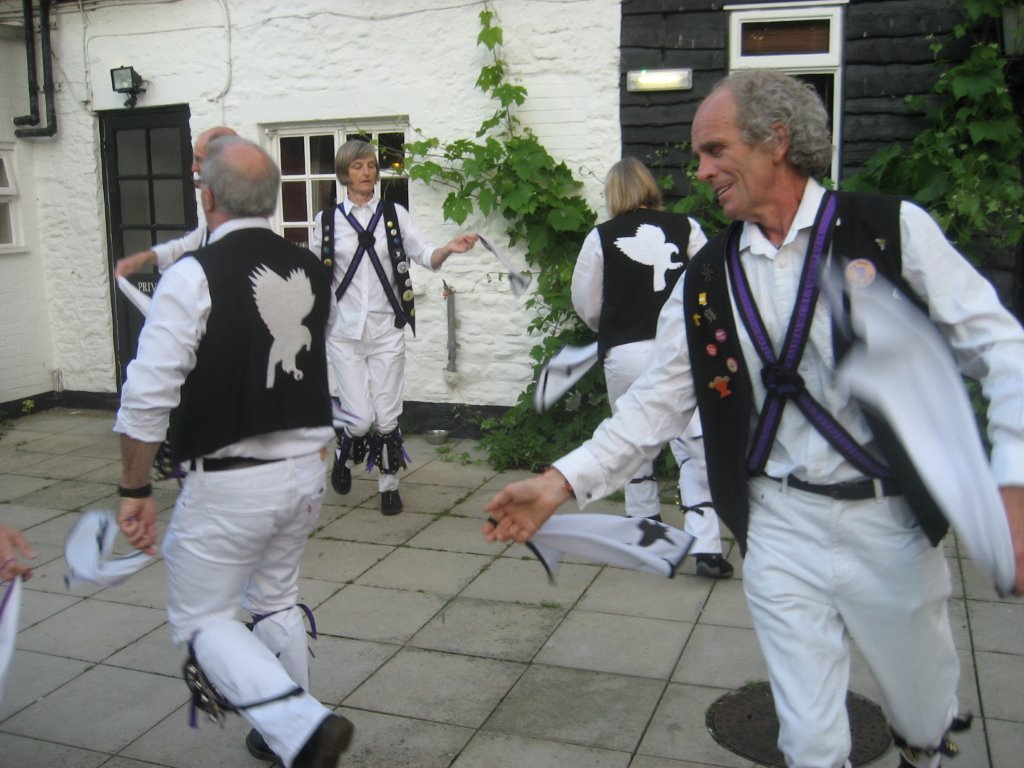 Which political leader would make a good morris dancer? Ghandi – he always carried a stick and as far I can recall always wore bell pads – or is that a memory shortcoming?
Tell us something about you we don't know: My first dance out was in Osaka Japan!
What advice would you give someone just starting morris dancing? Seek therapy or psychotropics!
What question should I have asked you that I didn't? Is dark matter a concern to morris?
Sum up morris in three words: Ancient Aerobic Antics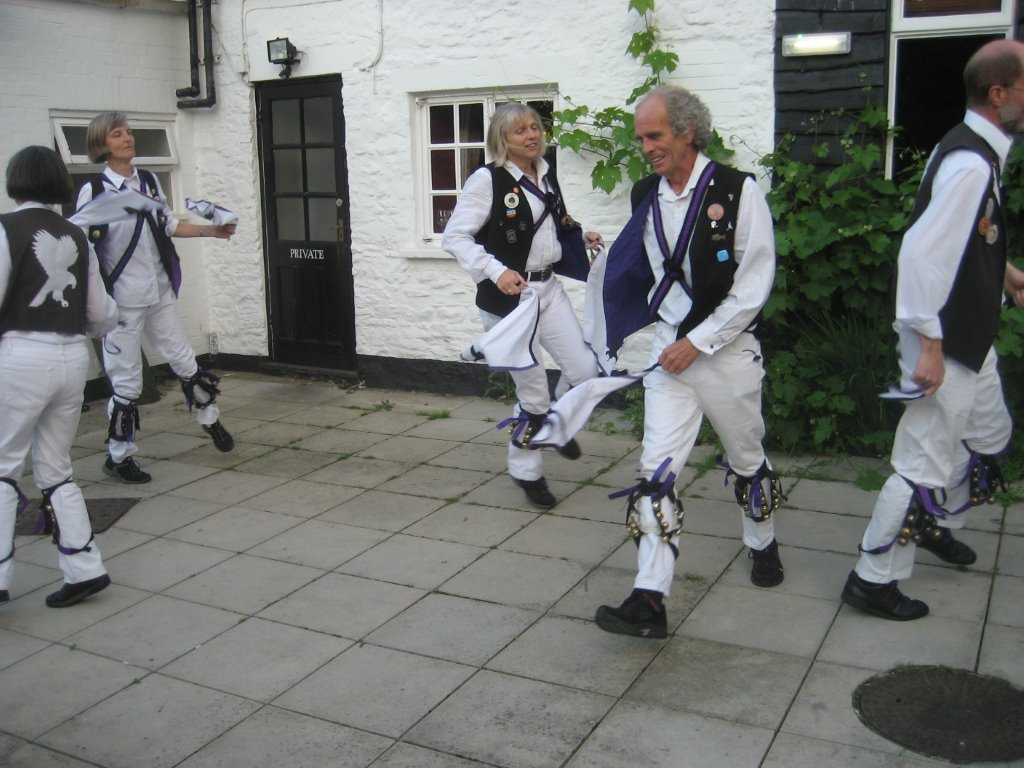 ---
One for anyone planning to jump off the bridge on May Morning – may the St. John's ambulance crews have good cause to remain bored, tomorrow!