Jim's Mum is one of those people who Organises at her local church, All Saints in Gerrards Cross. The Church Committee heard somewhere that running a small beer festival was the latest natty fundraising idea, so they decided to try. And booked Havoc as entertainment.
Mercifully, we got a sunny September Saturday. We were given free beer – always the way to attract a Morris side – and lunch too! We also got distracted while dancing Jenny Lind by a Spitfire and a Hurricane circling overhead.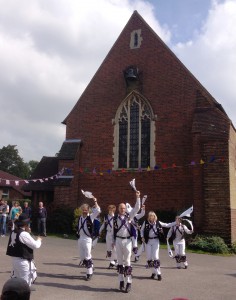 We had an unexpected guest from Chippenham Town Morris – try and spot which one he is!
And a 'guest' from Foxwhelp – less easy!'
We even managed to capture a video of 'Hunt the Squirrel'.